---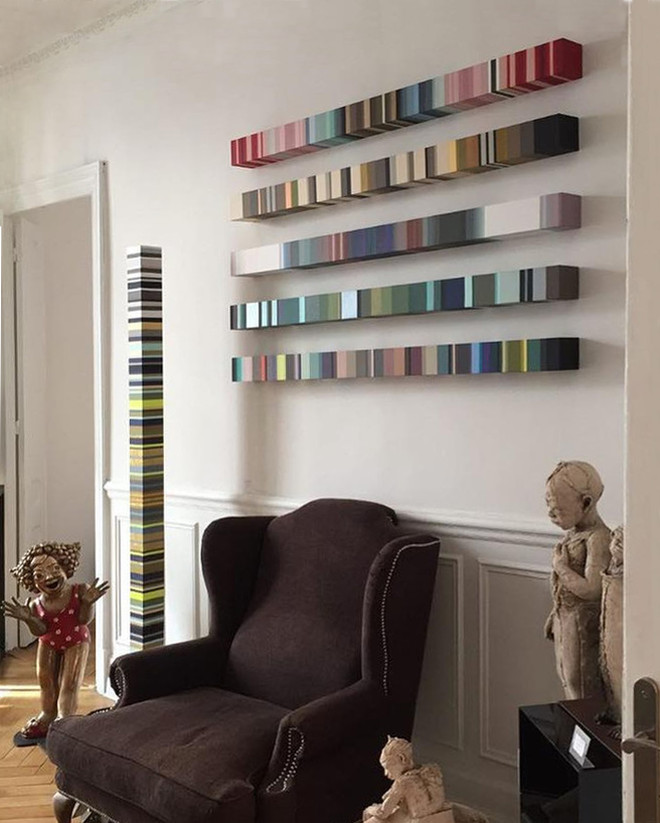 Peter Larsen




Palumbo, Palais de Tokyo, Mon Oeil, Rainforest, Registre des Sentiments,

2018
5 works, each 10 x 10 x 160 cm. (exposed at the Riviera Gallery, Nice)
There is no accounting for taste, it is said. There is something private and intimate in the acquisition and contemplation of art. The commissioned portrait is two-faced, revealing through brushstrokes, both the personality of the patron and the emotions of the artist. The accumulation of intellect and emotion of the artist alone is of a more sober binarity, Thanks to ready-to-wear, it has become a rare luxury to dress tailor-made. The sensation of comfort has exteriorized, from the intimate pleasure of garments marrying the body to perfection, we have turned to the pleasure of a perfect positioning in the eyes of others. The work of art, ready-to-wear or rather ready to show, reveals the sensibility of the collector, as much for himself as in his relationship with other people. Passionate about the synthesis of sensations and the embellishment of the individual reality, Peter Larsen work on commission with great pleasure. You are welcome to acquire available works, just as well as a bespoke work, from him. The commission of a work provides you a work being a part of you, a visible tip of your inner self.

Peter Larsen lives and works in Nice, France. He graduated from the Copenhagen School of Graphic Arts.

His work is eco-responsible without any nuisance for humans or for nature. His artworks themselves, the scraps and the waste from their manufacture are 100% recyclable and 100% biodegradable. His workshop never subcontracts or imports from countries not respecting human rights or rights of nature.